Covid-19 has highlighted limitations in our democratic politics – but also lessons for how to deepen our democracy and more effectively respond to future crises.
In the face of an emergency, the working assumption all too often is that only a centralised, top-down response is possible. This book exposes the weakness of this assumption, making the case for deeper participation and deliberation in times of crises. During the pandemic, mutual aid and self-help groups have realised unmet needs. And forward-thinking organisations have shown that listening to and working with diverse social groups leads to more inclusive outcomes.
​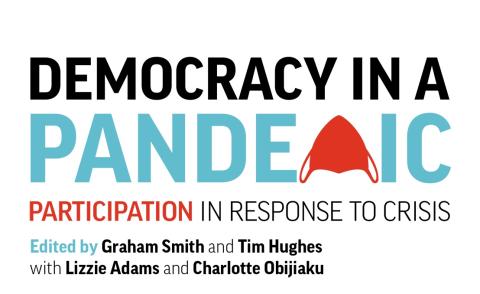 Participation and deliberation are not just possible in an emergency. They are valuable, perhaps even indispensable. 
This book draws together a diverse range of voices of activists, practitioners, policy makers, researchers and writers. Together they make visible the critical role played by participation and deliberation during the pandemic and make the case for enhanced engagement during and beyond emergency contexts.
Another, more democratic world can be realised in the face of a crisis. The contributors to this book offer us meaningful insights into what this could look like.
  PAPERBACK FROM HIVE    PAPERBACK FROM AMAZON
Please get in touch if you require the book in any other format and we would be very happy to look into this for you.
Background
The book is based on the "A democratic response to Covid" blog series that we have curated with the Centre for the Study of Democracy at the University of Westminster. It includes 15 of the original articles chosen to represent diverse perspectives and experiences on participation and deliberation in a time of emergency, along with five specially commissioned essays reflecting on hearing diverse voices, mutual aid, participatory public authorities, democratic innovation around the world, and the future for democracy. See the contents below.
The book is published by University of Westminster Press as an open access title, but will also be available to buy as a paperback.
The Editors
GRAHAM SMITH is Professor of Politics and Director of the Centre for the Study of Democracy at the University of Westminster and Chair of the Foundation for Democracy and Sustainable Development.
TIM HUGHES is the outgoing Director of Involve and a leading specialist in the field of participatory and deliberative democracy.
LIZZIE ADAMS is Project and Governance Lead at Involve, the UK's leading public participation charity.
CHARLOTTE OBIJIAKU is Project Administrator at Involve and a member of the 2020/21 Charityworks graduate scheme.
Contents
Introduction, Graham Smith, Tim Hughes, Lizzie Adams and Charlotte Obijiaku
PART ONE: VOICES FROM THE PANDEMIC
Some Things Are So Urgent That We Can't Afford to Do Them Quickly, Martin Johnstone
The Perfect Storm? Emerging from the Crisis Stronger, Through Sharing What We Have, Jez Hall
Building More Vibrant and Inclusive Democracies: How to Meet the challenges of Covid-19, Sanjay Pradhan
Does Democracy Need a Time Rebellion?, Roman Krznaric
Building Back Inclusively, Dayo Eseonu
Ordinary and Extraordinary Stories: Including People with Learning Disabilities in Policy Development and Research, Rhiann McLean and Angela Henderson
Organising to Humanise the Gig Economy, Alex Marshall
Let's Talk About Covid-19 Ethics, Dave Archard
Democracy – A Dish Well Done, Frances Foley
Learning How to Listen in a Pandemic, Laura Seebohm
No Justice Without Us: Respecting Lived Experience of the Criminal Justice System, Paula Harriott
Participation on Whose Terms?, Javier Sanchez-Rogriguez
The Queer House Party: Solidarity and LGBTQI+ Community-Making in Pandemic Times, Francesca Romana Ammaturo and Olimpia Burchiellaro
Student Democracy in the Face of Covid-19, Isobel Walter
Experts by Experience: Enabling the Voice of Survivors to Transform the Response to Domestic Abuse in the UK, Martha Tomlinson
The Best Time to Start Involving the Public in Covid Decision-Making was a Year Ago The Next Best Time Is Now, Jon Alexander
PART TWO: LESSONS FOR DEMOCRACY
Hearing Diverse Voices in a Pandemic: Towards Authentic Inclusion, Ruth Ibegbuna
Mutual Aid and Self-Organisation: What We Can Learn from the Rise of DIY Responses to the Pandemic, Matt Leach
How the Pandemic Has Accelerated the Shift Towards Participatory Public Authorities, Donna Hall, Simon Kaye and Charlotte Morgan
Citizen Voice in the Pandemic Response: Democratic Innovations from Around the World Antonin Lacelle-Webster, Julien Landry and Ann Marie D. Smith
Is Democracy Too Much Trouble in a Pandemic? Archon Fung
Conclusion: A Manifesto for Democracy in a Crisis Tim Hughes and Graham Smith
​